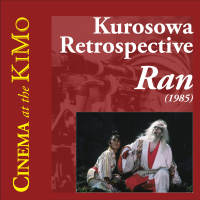 Film at the Kimo
Akira Kurosowa Retrospective part 7
Ran - 1985
RATED R / In Japanese with English Subtitles
Time: 7:00pm Day: Thursday Doors: 6:30pm Ages: All Ages Price: $5 - $7
This Event Has Ended
In Japanese with English Subtitles.
An elderly lord abdicates to his three sons, and the two corrupt ones turn against him.

Director: Akira Kurosawa
Stars: Tatsuya Nakadai, Akira Terao and Jinpachi Nezu

This film is RATED R. Run time 2 hours, 42 minutes

About this retrospective:

In 1989, Akira Kurasawa was awarded a much-deserved Academy Award for Lifetime Achievement "for cinematic accomplishments that have inspired delighted, enriched and entertained worldwide audiences and influenced filmmakers throughout the world."

For a chronological look at Kurasawa's genius, start with his first detective film STRAY DOG (1950 Winner Mainichi Film Concours Best Actor, Best Art Direction, Best Cinematography & Best Film Score) that began the genre in Japan, and RASHOMON (1953 Best Foreign Film Oscar), a brutal tale of rape and murder in 12th-century Kyoto, as seen by four conflicting witnesses. Yikes!

Move on to 16th-century Japan with SEVEN SAMURAI (1957 Oscar-nominee Best Art Direction & Best Costume Design), in which farmers under the heel of marauding bandits decide to hire ronin for protection. THE HIDDEN FORTRESS (1959 Winner Berlin International Film Festival FIPRESCI Prize & Best Director), tells the tale of two bickering farmers on the run from clan wars, dragooned by General Toshiro Mifune into aiding his rescue of fugitive princess Misa Uehara; Acknowledged as the source for STAR WARS (hey, the plot synopsis does sound familiar)! YOJIMBO (1962 Oscar-nominee Best Costume Design) might be, as J. Hoberman put it, "the best samurai film ever made."

Fast forward two decades to RAN (1985). The New York Times calls it, "A masterpiece! …It stands outside time!" It sure does. The costumes alone took three years to make! Maybe that's why they took home the Oscar that year? Kurosawa's adaptation of Shakespeare's "King Lear" proves the master's flair for stylistic innovation remained undimmed at the age of 75. RAN marks the culmination of his career — clarified Kurosawa, "I said culmination, not conclusion." Perhaps it is fitting that the New York Film Critics Circle, on the occasion of their 75th Anniversary, awarded RAN the prize for Best Foreign Film.