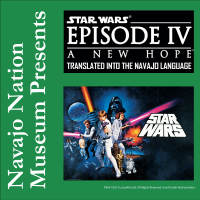 Lucasfilm Ltd. / Navajo Nation Museum
Star Wars: Episode IV A New Hope dubbed in the Navajo language
Free General Admission / Seating Limited to 550 Seats
KiMo Theatre, 423 Central Ave NW
Time: 7:00pm Day: Friday Doors: 6:00pm Price: FREE
This Event Has Ended
KIMO THEATRE TO HOST ONE-TIME SCREENING OF NAVAJO-LANGUAGE STAR WARS™
Seating Limited to 550 Seats

Star Wars: Episode IV A New Hope to be shown October 11th, 2013
Rated: PG
121 min
Stars:
Mark Hamill, Harrison Ford, Carrie Fisher

The much-awaited Star Wars: Episode IV A New Hope dubbed in the Navajo language will soon be hitting the road to screen in select cities across the country. So far, this version of the movie has only been shown on or near the Navajo Nation. The excitement over the initial release this past summer has carried across the country. Many groups, not just Native American audiences, have expressed interest in seeing this iconic film with a new twist. The Navajo Nation Museum took the lead on this venture coordinating and fundraising until the movie was finished. In the end, Lucasfilm, 20th Century Fox, and Deluxe joined the effort to help audiences experience the film in the Navajo language. The majority of funding came from within the Navajo Nation itself as the Parks and Recreation Department stepped up to the plate as the premiere sponsor. All of the recording was done locally at Native-owned Knifewing Studios in Gallup, NM.

Locations were chosen primarily on the basis of their Native American population. As part of the arrangement with Lucasfilm and 20th Century Fox, all screenings will be free; however, certain venues may require an RSVP. Please check with the local venues listed for details about screening requirements.

Tempe, AZ Friday or Saturday October 4 , Arizona State University
Phoenix, AZ Sunday October 6, The Heard Museum
Albuquerque, NM Friday October 11 The KiMo Theatre
Salt Lake City, UT Friday October 18 Utah Museum of Natural History
Denver, CO Saturday October 19 Denver Film Center\
Lawrence, KS Friday October 25 Haskell Indian University
Norman, OK Sunday October 27 University of Oklahoma
Washington, DC Friday November 1 National Museum of the American Indian
New York City NY Sunday November 3 National Museum of the American Indian
San Francisco, CA Wednesday November 6 American Indian Film Festival
Los Angeles, CA Saturday November 9 Red Nations Film Festival

Please visit navajonationmusem.com or the Navajo Nation Museum Facebook page for the most up to date information, or call the Navajo Nation Museum at 928.871.7941.

MEDIA CONTACT:
www.kimotickets.com


Lucasfilm, the Lucasfilm logo, STAR WARS and related properties are trademarks and/or copyrights, in the United States and other countries, of Lucasfilm Ltd. and/or its affiliates. TM & © 2013 Lucasfilm Ltd. All rights reserved. All other trademarks and trade names are properties of their respective owners.