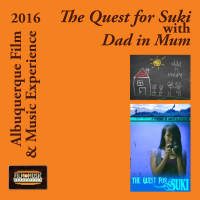 The Albuquerque Film & Music Experience Presents
The Quest for Suki (USA 2015), with Dad in Mum (France 2014)
Feature / Short
KiMo Theatre, 423 Central Ave NW
Time: 7:30pm Day: Thursday Doors: 7:00pm Ages: All Ages Price: $8
This Event Has Ended
The Quest for Suki (USA 2015)
A gullible sweepstakes entrant determines something is awry when his big win lands him a meeting with the mayor's evil twin.  Julius lives in a larger-than-life New Mexico, where 70 years ago the bitter War of New Mexico almost destroyed the Southwest, and as a result, everything today is a bit... stranger. A local museum proudly claims to hold 'The Bluest Painting in the World.' Caffeinated Malt Beverages are still legal. Brain-eating amoebas are harvested in glowing syringes. And a sinister plot is out to ruin Julius' life for no good reason. Sometimes life is just absurd. 
1 hr 30 min / Feature
Director: Clint Bramlette
Dad in Mum (France 2014)
The middle of the night. Moans are heard behind the parents' door.  Two young sisters are asking questions... 
6:10 min / Short
Director: Fabrice Bracq