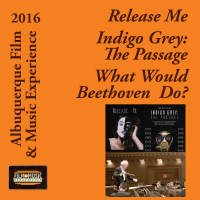 The Albuquerque Film & Music Experience Presents
What Would Beethoven Do? (USA 2016), with Indigo Grey: The Passage (USA 2015), Release Me (USA 2015)
Documentary / Music Video / Music Video (LIVE PERFORMANCE BY NATHAN AND NOAH EAST FOLLOWING THE MOVIE)
KiMo Theatre, 423 Central Ave NW
Time: 6:00pm Day: Friday Doors: 5:30pm Ages: All Ages Price: $8
This Event Has Ended
What Would Beethoven Do? (USA 2016)
The film questions why we create art by looking at the fractured state of the ailing classical music world. Along with a colorful greek chorus of thinkers, three charismatic creators reveal not only why they make music but what it stands for beyond the notes on the page.
1 hr 15 min / Documentary
Director: Jonathan Keijser
Indigo Grey: The Passage (USA 2015)
A young boy's discovery of a mysterious gas mask provides a glimpse into an alternate reality.   Featuring America's Got Talent's 'Hammerstep,' a traditional Irish/hip-hop dance troupe, nine-year-old Aidan Lok, who has a first degree black belt in Shotokan Karate and has won over 100 medals from international karate tournaments, and original score by Evanescence's Amy Lee, Dave Eggar and Chuck Palmer.
6 min / Music Video
Director: Sean Robinson
Release Me (USA 2015)
"Release Me" by singer/songwriter Adalia Tara, is about overcoming the social pressures that we all face, and the unattainable idea of perfection that we project upon one another. The song speaks about shedding the many masks we wear that cover our authentic selves; our beautiful vulnerability. When we set ourselves free from other people's expectations of us, we begin to come alive! **The only instrument in this song is Tara's VOICE!!! Including all the beats and sounds you hear! 
3:33 min / Music Video
Director: Jeremy J Hawkes, Adalia Tara
LIVE PERFORMANCE BY NATHAN AND NOAH EAST FOLLOWING THE MOVIE.