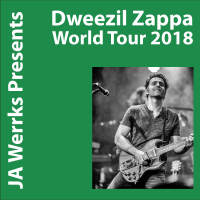 Joe Anderson Werks, LLC
Dweezil Zappa
World Tour 2018
KIMO THEATRE, 423 CENTRAL AVE NW
Time: 8:00pm Day: Saturday Doors: 7:00pm Ages: All Ages Price: $31 - $77
This Event Has Ended
Dweezil Zappa was born on September 5, 1969 in Los Angeles the son of Frank and Gail Zappa.

It was inevitable that from the moment of his birth his life would be filled wall-to wall with music (his father having listed his religion as "musician" on Dweezil's birth certificate). Dweezil's early years were spent largely away from the spotlight—something of a rarity for the child of a celebrity, but perfect for cultivating a close relationship with his family.
Having watched his father perform concerts from the side of the stage since he was in diapers it was no surprise that he began to show an interest in music early on. At 6 years old he received his first guitar, a Fender Music Master from his dad.
MASTERCLASS INFORMATION: (Does Not include tickets to show) 
Dweezil also does a MASTERCLASS during the daytime, usually 4 hours before doors.  It is billed as  "Dweezil Zappa Guitar Masterclass- Dweezilla On The Road".  
Dweezil sits in a chair with his guitar and a little practice amp at his feet.  People taking the class are encouraged to bring their guitars, but the don't play through amps.  It is a very "classroom" like vibe. 
SOUNDCHECK PARTY INFORMATION:
Soundcheck Party will start 90 minutes before doors and will last approx 45 min
https://www.dweezilzappa.com/