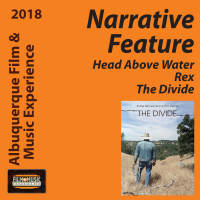 Albuquerque Film & Music Experience Presents:
The Divide (USA 2016) with Rex (USA 2017)
Feature / NM Made Short
KIMO THEATRE, 423 CENTRAL AVE NW
Time: 4:30pm Day: Saturday Doors: 4:00pm Ages: All Ages Price: $10
This Event Has Ended
The Divide (USA 2016)
'Some fences are hard to mend.' Set in drought-plagued Northern California in 1976, The Divide chronicles the story of Sam Kincaid (Perry King), an aging rancher with a failing memory, his estranged and independent-minded daughter, Sarah, and Luke, a young ranch hand who finds himself in the midst of a family in crisis. Internal struggles, the realities of an unforgiving landscape, and the need to reconcile a long-ago tragedy collide to create the backdrop for this classic American Western.
1 Hour 44 minutes  
Director:  Perry King 
Rex (USA 2017) 
Dementia threatens the livelihood of an aging tree painter, but he won't go down without a fight.
10 minutes 
Director:  Andy Kastelic