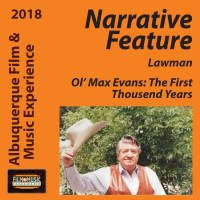 Albuquerque Film & Music Experience Presents:
Ol' Max Evans: The First Thousand Years (USA 2017) with Lawman (USA 2017)
Documentary Feature / Narrative Short
KIMO THEATRE, 423 CENTRAL AVE NW
Time: 5:00pm Day: Thursday Doors: 4:30pm Ages: All Ages Price: $7
This Event Has Ended
Ol' Max Evans: The First Thousand Years (USA 2017)
The film is a documentary portrait of New Mexican writer Max Evans author best known for The Rounders and The Hi Lo Country (both made into feature films). The film is the story of Max's improbable life from teenage cowboy, to soldier in WWII (Max landed on Omaha Beach on D-Day), to struggling small ranch owner, to mining speculator, to painter working in the artists' colony of Taos, and finally to his real calling a writer who chronicles the ever-changing, complex life of ranchers and cowboys in contemporary New Mexico. Max was a renowned bar brawler, drinker and raconteur for most of his life. The success of The Rounders led Max to Hollywood where he developed a life-long friendship with Sam Peckinpah, acting as a "script doctor" for him and other Hollywood directors. He later was instrumental in forming the New Mexico Film Commission, the first such state agency in the US. As a teenager, Max was largely untaught and was highly influenced by reading Balzac, Chekov, Tolstoy and Shakespeare – copies of whose work he found on a rancher's bookshelves. His writing is in his mentors humanist, tragi-comics tyle, not the standard Western shoot 'em ups. His achievements, while highly recognized by his peers, are largely underappreciated in the world of American literature. The film attempts to revive an interest in Max novels and short stories and elevate his reputation.   
1 Hour 19 minutes  
Director:  Lorene Mills, David Leach, and Paul Barnes
Lawman (USA 2017)
1875, Indian Territory.   Bass Reeves, is the first African-American to be deputized by the U.S. Marshal service. His wife, Nellie Jennie Reeves, tries to persuade Bass not to leave for his own safety, but Bass argues that it's the best job he can get to keep a roof over his family's head.   When Bass charges into the desert, he engages in a shootout with two outlaws, Maha and Glen Huddleston, also African-American. Bass kills Maha in the gunfight, and arrests Glen, ordering him to carry Maha's body across the desert back to Fort Smith.   Over the course of their journey, Glen questions Bass' choice of career and tries to psych Bass out in an unorthodox attempt at escape, a tactic that works as Bass begins to question his own mind in regards to the idea of justice and choosing to fight for a law and a country that may never fight for him.
13 min 11 sec  
Director:  Matthew Gentile