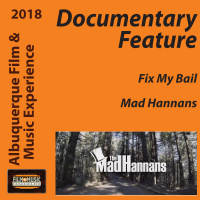 Albuquerque Film & Music Experience Presents:
Mad Hannans (USA 2017)
With Music Video: Fix My Bail (Australia 2016) Fiona Cochrane
KiMo Theatre, 423 Central Ave NW
Time: 8:00pm Day: Wednesday Doors: 7:30pm Ages: All Ages Price: $10
This Event Has Ended
Mad Hannans (USA 2017) 

is a film about brothers, musicians, bandmates Jerry and Sean Hannan, chronicling their rise, fall, and ultimate reconciliation. It is a true story of life's joys, trials, devastating losses, and the unbreakable bonds that hold them all together. By following the brothers through their journey we learn the importance of redemption, hope, family, and doing the things you love before it's too late. Featuring Sean Penn, Eddie Vedder, Jerry Harrison (Rock N'Roll Hall of Fame, Talking Heads), and others...
Directed by:
Martin Shore
Teen Safe Driving PSA
Directed by:
Maya Holt
Music Video: Fix My Bail (Australia 2016)  
Music Video 
3 min 50 sec
Directed by:
Fiona Cochrane