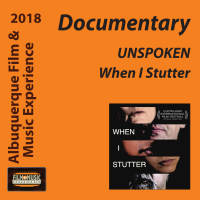 Albuquerque Film & Music Experience Presents:
When I Stutter (USA 2017)
With UNSPOKEN (USA 2017)
KiMo Theatre, 423 Central Ave NW
Time: 10:00am Day: Saturday Doors: 9:30am Ages: All Ages Price: $7
This Event Has Ended
When I Stutter (USA 2017)

The primary goal of "When I Stutter" is to help bring greater understanding and empathy to a group of people that contend with an often misunderstood communication disorder.  Over the course of 4.5 years, 19 people shared stories about how stuttering has impacted their lives.  These stories run the gamut of human emotions…  Some stories are dark, some are funny and others are triumphant!  Interspersed throughout the documentary, are "educational vignettes" that help elucidate some of the mysteries and questions that surround stuttering. In addition to interviews and vignettes, a young man is followed on his journey through stuttering therapy. The relationship that he forms with the speech pathologist and the progress  that he makes is truly heartwarming.  "When I Stutter" is a documentary that reveals the humanity that can be found when we explore an often mysterious malady.
1hr 7 min
Directed by:
John Gomez

UNSPOKEN (USA 2017) 

Using her insightful writing as a catalyst and remedy to the fear surrounding autism, Emma Zurcher-Long presents UNSPOKEN as a collaborative self-portrait; a chronicle of a teenager who lives in the beauty beyond spoken language. Follow Emma's journey as she enriches our understanding of what it means to be human.   ***This is Emma's debut as co-director***    *Winner of the "POSITIVE IMAGES IN THE MEDIA" 2017 TASH Award for UNSPOKEN Documentary 

26min
Directed by:
Emma Zurcher-Long, Julia Ngeow, Geneva Peschka