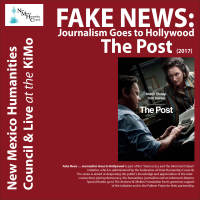 NEW MEXICO HUMANITIES COUNCIL and KiMo/CABQ PRESENTS:
The Post (2017)
FREE EVENT
KiMo Theatre, 423 Central Ave NW
Time: 6:00pm Day: Sunday Doors: 5:30pm Ages: 13+ Ages Price: FREE
This Event Has Ended
The Post (2017)
When American military analyst, Daniel Ellsberg, realizes to his disgust the depths of the US government's deceptions about the futility of the Vietnam War, he takes action by copying top-secret documents that would become the Pentagon Papers. Later, Washington Post owner, Kay Graham, is still adjusting to taking over her late husband's business when editor Ben Bradlee discovers the New York Times has scooped them with an explosive expose on those papers. Determined to compete, Post reporters find Ellsberg himself and a complete copy of those papers. However, the Post's plans to publish their findings are put in jeopardy with a Federal restraining order that could get them all indicted for Contempt. Now, Kay Graham must decide whether to back down for the safety of her paper or publish and fight for the Freedom of the Press. In doing so, Graham and her staff join a fight that would have America's democratic ideals in the balance.

1Hr 56Min
Rated: (PG-13)

Stars:
Meryl Streep, Tom Hanks, Sarah Paulson 

Devin O'Leary, chief film critic at the Weekly Alibi, hosts "Fake News: Journalism Goes to Hollywood" a film and discussion series held at the KiMo Theatre once a month through November. The series examines the role of the press in democratic societies and invites the audience to engage in conversation with the guests about the future of journalism.
The series kicks off May 20th featuring the 2017 Academy Award-nominated film The Post and special guests, Scott Armstrong investigative journalist and former reporter for the Washington Post, and Megan Kamerick, freelance journalist and host of Morning Edition at KUNM.
"Fake News: Journalism Goes to Hollywood" is a Partnership between KiMo/CABQ and NM Humanities Council.
Fake News … Journalism Goes to Hollywood is part of the "Democracy and the Informed Citizen" initiative, which is administered by the Federation of State Humanities Councils. The series is aimed at deepening the public's knowledge and appreciation of the interconnections joining democracy, the humanities, journalism and an informed citizenry.  Special thanks go to The Andrew W. Mellon Foundation for its generous support of the initiative and to the Pulitzer Prizes for their partnership.