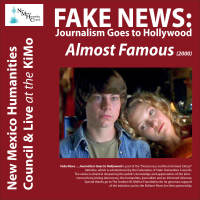 NEW MEXICO HUMANITIES COUNCIL and KiMo/CABQ PRESENTS:
Almost Famous (2000)
FREE EVENT
KiMo Theatre, 423 Central Ave NW
Time: 2:00pm Day: Sunday Doors: 1:30pm Ages: 17+ Ages Price: FREE
This Event Has Ended
Almost Famous (2000)
The early 1970s. William Miller is 15-years old and an aspiring rock journalist. He gets a job writing for Rolling Stone magazine. His first assignment: tour with the band Stillwater and write about the experience. Miller will get to see what goes on behind the scenes in a famous band, including the moments when things fall apart. Moreover, for him, it will be a period of new experiences and finding himself. Written by grantss

2Hr 2Min

Rated: (R)

Stars:
 Billy Crudup, Patrick Fugit, Kate Hudson 

Devin O'Leary, chief film critic at the Weekly Alibi, hosts "Fake News: Journalism Goes to Hollywood" a film and discussion series held at the KiMo Theatre once a month through November. The series examines the role of the press in democratic societies and invites the audience to engage in conversation with the guests about the future of journalism.
"Fake News: Journalism Goes to Hollywood" is a Partnership between KiMo/CABQ and NM Humanities Council.
Fake News … Journalism Goes to Hollywood is part of the "Democracy and the Informed Citizen" initiative, which is administered by the Federation of State Humanities Councils. The series is aimed at deepening the public's knowledge and appreciation of the interconnections joining democracy, the humanities, journalism and an informed citizenry.  Special thanks go to The Andrew W. Mellon Foundation for its generous support of the initiative and to the Pulitzer Prizes for their partnership.