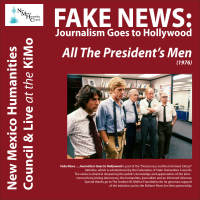 NEW MEXICO HUMANITIES COUNCIL and KiMo/CABQ PRESENTS:
All the President's Men (1976)
FREE EVENT
KiMo Theatre, 423 Central Ave NW
Time: 2:00pm Day: Sunday Doors: 1:30pm Ages: All Ages Price: FREE
This Event Has Ended
All the President's Men (1976)
In the run-up to the 1972 elections, Washington Post reporter Bob Woodward covers what seems to be a minor break-in at the Democratic Party National headquarters. He is surprised to find top lawyers already on the defense case, and the discovery of names and addresses of Republican fund organizers on the accused further arouses his suspicions. The editor of the Post is prepared to run with the story and assigns Woodward and Carl Bernstein to it. They find the trail leading higher and higher in the Republican Party, and eventually into the White House itself.
2Hr 18Min

Rated: (PG)

Stars:
Dustin Hoffman, Robert Redford, Jack Warden 

Devin O'Leary, chief film critic at the Weekly Alibi, hosts "Fake News: Journalism Goes to Hollywood" a film and discussion series held at the KiMo Theatre once a month through November. The series examines the role of the press in democratic societies and invites the audience to engage in conversation with the guests about the future of journalism.
"Fake News: Journalism Goes to Hollywood" is a Partnership between KiMo/CABQ and NM Humanities Council.
Fake News … Journalism Goes to Hollywood is part of the "Democracy and the Informed Citizen" initiative, which is administered by the Federation of State Humanities Councils. The series is aimed at deepening the public's knowledge and appreciation of the interconnections joining democracy, the humanities, journalism and an informed citizenry.  Special thanks go to The Andrew W. Mellon Foundation for its generous support of the initiative and to the Pulitzer Prizes for their partnership.