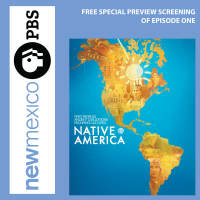 PBS & City Of Albuquerque, KiMo Theatre Presents
Native America - SOLD OUT
First People. Ancient Civilizations. Enduring Cultures.
KIMO THEATRE, 423 CENTRAL AVE NW
Time: 7:00pm Day: Friday Doors: 6:30pm Ages: All Ages
This Event Has Ended
NATIVE AMERICA
New 4-part series from PBS
First People.  Ancient Civilizations. Enduring Cultures.
FREE SPECIAL PREVIEW SCREENING OF EPISODE ONE
Friday, October 19th, 2018 – 7:00pm-9:00pm
KiMo Theater, 423 Central Ave NW, Albuquerque, NM
The 60-minute preview will be followed by a discussion with Gary Glassman –  Executive Producer/Director- Providence Pictures, Patricia Crown – Distinguished Professor of Anthropology –  UNM, Anna Roosevelt – Professor of Anthropology – University of Illinois at Chicago, and Jim Enote – CEO, Colorado Plateau Foundations. Gene Grant, host of New Mexico in Focus will moderate the panel discussion.
NATIVE AMERICA explores the worked created by America's First Peoples.  The four part series reaches back 15,000 years to reveal massive cities aligned to the stars, unique systems of science and spirituality, and 100 million people connected by social networks scanning two continents.