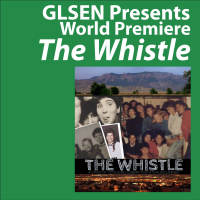 GLSEN Presents
The Whistle
World Premiere
KIMO THEATRE, 423 CENTRAL AVE NW
Time: 7:30pm Day: Friday Doors: 7:00pm Ages: All Ages Price: $4 - $30
This Event Has Ended
ALBUQUERQUE DYKE YOUTH in the 70s and 80s!

A 45 year old Latinx trans man returns to his birthplace - Albuquerque, New Mexico - in search for the origin of a secret lesbian code he learned when he identified as a teenage dyke in the 80s.​

The Whistle is a documentary film that will tell the story of a secret code created by and shared among young lesbians in 1970s & 80s Albuquerque as a means of self-­identification and finding community. 

In the 1970s & 80s, a group of lesbian youth in Albuquerque had a particular way of finding each other and others like themselves. They created a special whistle that was both hard to learn and easy to go unnoticed by unsuspecting bystanders. It would go on to be known by their peers and by those who came up and out after them as the "dyke whistle." The dyke whistle was a right of passage taught to newly out dykes by their peers. It was used to find friends in a crowd, to find out if other young women were also lesbians, and was used as a sort of friendly nod to groups of lesbians passing by at the mall or at the State Fair. Most importantly, it was a lifeline to community for many young lesbians coming up and out during that time. The dyke whistle was a safe way to identify oneself to fellow lesbians in public – without anyone else knowing and compromising one's safety.

Director StormMiguel Florez is a queer Chicanx trans man who came out and identified as a dyke in 1987 during his freshman year at Del Norte High School in Albuquerque. When Florez came out at the age of 15, a group of his lesbian peers took him under their wing and taught him how to navigate the stresses and the joys of being a young dyke in Albuquerque in the mid 1980s. They took Florez to house parties, introduced him to dykes from other high schools, cruised the parking lots of gay bars that they were too young to get into, and taught him slang like "wrecked" (the process of coming out as a dyke) and "1-4-3" (code for "I love you").  And they taught him the dyke whistle. 

For this project, director StormMiguel Florez will interview his peers who were also out in the 1980s. These interviews will explore what lesbian identity formation was like for Albuquerque youth in the 1980s, how participants came out, found each other, and built community with other young dykes, and how they navigated and survived discrimination from their families of origin, public schools, and straight classmates. 

The Whistle will document and reveal both humorous and heartbreaking stories, often told by participants in the same breath.

During the course of interviews, the director will seek to uncover the origin of the dyke whistle and the word "wrecked," and above all seeks to document and preserve an important piece of New Mexico LGBTQ history. 
Director: StormMiguel Florez
https://www.stormflorez.com/the-whistle.html/