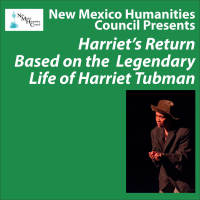 New Mexico Humanities Council Presents
Harriet's Return:
Based on the Legendary Life of Harriet Tubman
KiMo Theatre, 423 Central Ave NW
Time: 7:00pm Day: Saturday Doors: 6:30pm Ages: 12+ Ages Price: $10 - $15

Harriet's Return: Based Upon the Legendary Life of Harriet Tubman
Award-winning Solo Performance by Karen Jones Meadows
Albuquerque – Since President Bill Clinton called on government officials, educators and the general public in 1996 to observe African American History Month, each February Americans have come together to celebrate and reflect upon the African American experience. This coming February, with the award-winning production Harriet's Return: Based Upon the Legendary Life of Harriet Tubman, the New Mexico Humanities Council and its partner, the City of Albuquerque Cultural Services Department, will provide New Mexicans with an exciting opportunity to pause and consider the significant contributions of African Americans to the building of our nation. 
Performed by Karen Jones Meadows and directed by Jake Walker, Harriet's Return is a unique, high-energy, deeply personal 31-character journey that chronicles the life and apotheosis of the famed Underground Railroad conductor, spiritual icon, revolutionary, and entrepreneur. Tubman's nine decades of activism still continue to influence the ideas and actions of people all over the world.
Following the performance, the audience is invited to participate in a Q & A with Jones Meadows moderated by Tracy Dingmann.
One night only! Harriet's Return: Based Upon the Legendary Life of Harriet Tubman will be performed at the historic KiMo Theatre in Albuquerque, Saturday, February 1, 2020. Performance begins at 7:00 pm. Advance tickets are $15 for adults and $10.00 for students; tickets day of show are $20 for adults and $15 for students. This production is suitable for audiences 12 years old and up. Purchase tickets at www.kimotickets.com or call (505)886-1251. Cash only concessions will be available.
Praise for Harriet's Return
 "... A tour-de-force…there is no doubt about Ms. Jones Meadows' abilities as a performer and a writer… She has an ability to switch characters -- sometimes with a mere shift of posture -- and a vast arsenal of voices that distinguish each role with conviction. But the play is more than this…And the longer we stay in her passionate presence, we cannot help but be influenced by the messages she provides…"
Michael P. Howley, Theatre Montgomery
"Harriet's Return…reaches inside its heroine's thoughts all the way to her soul…The playwright supplies Harriet with "voices" who embody, among other flesh-and-blood characters, the voices inside Harriet's head that guide her to her choices…The play imitates its heroine's pragmatism in a particularly moving way." Laurie Winer, Los Angeles Times
 "Meadows' rare gift for storytelling includes the ability to project the power of the story onto her audience - imbuing us with the strength and energy of her heroine. Somehow, somewhere along the way, we have all become Harriet without realizing it… I just found myself wishing it would never end." Erin Kahn, Stage Buddy, NY
This program is sponsored by the New Mexico Humanities Council, a non-profit organization that seeks to understand who we are, who we were and who we aspire to be through diverse humanities public programming and projects. Learn more at www.nmhumanities.org.